Foxing
with Now, Now, Daddy Issues
Sat
May 11, 2019
( Doors:

7:00 pm

)
SHOW:
8:00 pm
PDT
The Observatory
3503 South Harbor Boulevard, Santa Ana, CA
All Ages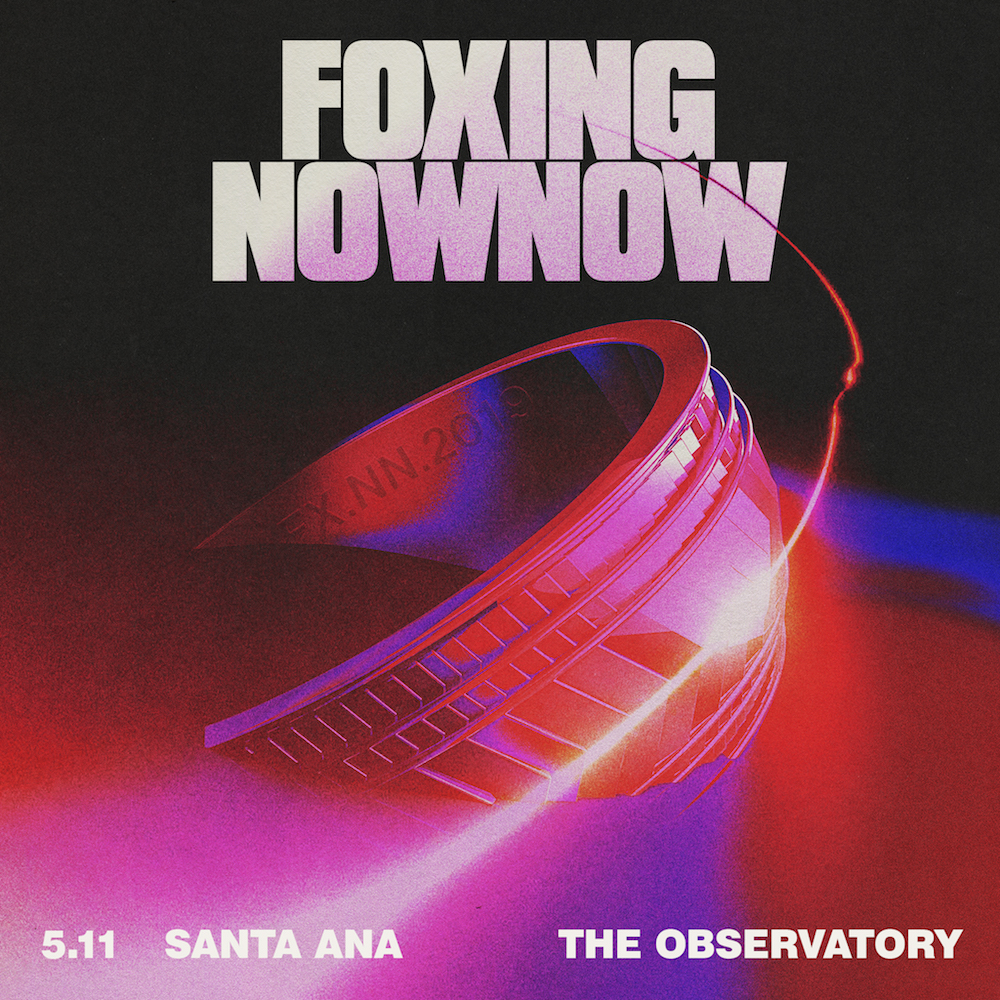 $20.00
Onsale schedule:
BK Vegan Presale
Begins Tuesday, 2/14 at 7am
Ends Thursday, 2/14 at 7pm
General Onsale
Begins Friday, 2/15 at 10am

PREMIUM PARKING & EARLY ENTRY WITH RESTAURANT RESERVATION
Enjoy our menu featuring variations of poutines, sliders and more while enjoying a show at The Observatory. Food can be ordered from our restaurant area in the lobby or from any bar in the venue. Early entry to most shows is available with reservations, and also include Premium parking. A minimum spend of $15 on food per person is required as part of the parking and early entry program. More info at: observatoryoc.com/food
Parking is available at the Premium Lot ($15) in front of the venue and at the General Lot ($10) just a block away. Parking lots open at 6 pm each night. Please pay close attention to all parking signage as towing is heavily enforced by our neighbors. Fans are encouraged to purchase their parking passes in advance.
Street parking available on W. Moore Street, W. Alpine Street, and S. Yale St, all within a short walk (5-10 minutes) of the venue.
Daddy Issues
"Flirty, flighty girl pop never sounded better, even from The Runaways." – Cashbox Magazine (Canada)
When singer and guitarist Jenna Moynihan saw the phrase "Daddy Issues" scribbled on the bathroom wall of a now-defunct Nashville DIY venue, she mistakenly assumed it was the name of an all-girl punk outfit sure to become her next favorite band. Upon realizing that no such band existed, Moynihan and friends Emily Maxwell (drums) and Jenna Mitchell (bass) picked up their instruments, taught themselves how to play and started their own band. Three years later, Daddy Issues are gearing up to release their full-length vinyl debut Deep Dream, out 5/19 via Infinity Cat Recordings.
The band originally caught Infinity Cat's eye after tastemaker Casey Weissbuch offered the trio a spot on the cassette series he curates for the label, which has hosted releases from artists like Rozwell Kid, Colleen Green and Guerrilla Toss over its three-year history. Days after submitting their tape in the summer of 2015, the band signed to Infinity Cat as official artists, releasing a 7″ split with Louisville band White Reaper later that year. Shortly thereafter, the band started work on Deep Dream with producer and label owner Jake Orrall (JEFF The Brotherhood, Colleen Green). Combining the sounds of '80s alternative, '90s grunge and '00s pop, Daddy Issues tackle the difficulties of friendship, heartbreak, mental health, sexual assault and a number of other issues that come with the package of youth in the modern world.