Sat
November 11, 2017
SHOW:
12:00 pm
PST
The Queen Mary in Long Beach
1126 Queens Highway, Long Beach, CA
All Ages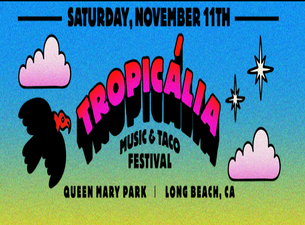 Tropicalia Music & Taco Festival
GoldLink
Where the intersections of the DMV (DC, Maryland and Virginia) collide, 24-year old GoldLink is a direct product. The DC metropolitan area has long been treated like a musical Rubik's cube—there are bursting, technicolor patches of musical brilliance, but the components never line up in a way that made sense to those on the outside. GoldLink aims to synthesize his environment's litany of influences and inspirations into something unique, singular, and all together his own.

With his latest album, At What Cost, releasing in March 2017 (Squaaash Club/RCA), he's done just that. By merging the essence of go-go with the African diaspora, he's done what hip-hop has done from its inception: repurpose what's available into something magical.
Slow Hollows
Slow Hollows is a five-piece post-punk band from the San Fernando valley. It consists of Austin Feinstein (vocals/guitar), Dylan Thinnes (guitar), Jackson Katz (drums), Aaron Jassenoff (bass) and Reed Kanter (keyboard). The band was started in January 2013 by Austin. Slow Hollows has released two full-length albums, "I'm Just As Bad As You Are" in December 2013 and "Atelophobia" in June 2015. Their new album "Romantic" is set to release November 4th on Danger Collective Records.